What is Foundation Labs?
We are a health optimization organization offering potent herbal formulas and pharmaceutical grade supplements. Our mission is to engage the human mind, body, and spirit with medicinal formulations to help in elevating the experience of one's life through enhanced vitality. We believe true change comes from within.
So Much More Energy
I feel your medicine is truly miraculous for someone like me. I'm so excited! Already I feel more energy, and last night I noticed clearer vision. The Reishi ADAPT is definitely giving my body what it needs. I thank you for your help and all you do to help others.
Digestion Improvement
I was having persistent distressing issues with my large intestine for over 5 months. I tried probiotics, various dietary adjustments, etc. Yet after only four days of taking ADAPT reishi spagyric my bowel problems were finally relieved and I was able to finally digest food properly again.
Blood Pressure Down 20 Points!
I have been taking my blood pressure three times daily while on your ADAPT for the last five weeks. In this short time, my blood pressure has gone down 20 points! The results are hard to deny. I will certainly continue to take this wonderful medicine. Thank you.
So Much Anxiety Released
I already have a second bottle but I am getting more today to feel secure because after so many years that I lost count of trying just about everything my doctors, friends and family had recommended to me to lower my blood pressure, ADAPT is the first remedy that has worked. So much anxiety has been released as well. I am so thankful for this reishi medicine because it helps me appreciate everything else so much more.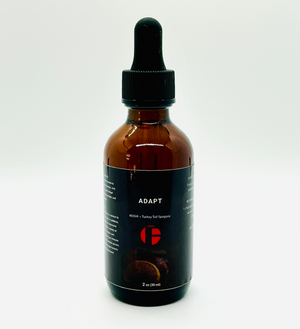 ADAPT | Reishi + Turkey Tail Spagyric
Sale price Price $64.00 Regular price $64.00